A Unique Workshop for Entrepreneurs
Design Your Path to Enduring Success, from Vision to Execution
Mac Lackey has been where you are. Whether you are just starting out, are part of a successful startup or are just trying to hit your next level Mac has lived in your shoes. Starting with nothing more than ambition and drive, Mac is now an entrepreneur with multiple eight figure exits, amazing life experiences and 20+ years of building high growth companies.
"If you are thinking of becoming an entrepreneur or are ready to hit the next level, you can do it. I had no pedigree when I started. No Ivy League degree or work experience. No family money or powerful network. I had drive, belief in myself, and a commitment to winning. And although I picked up some bruises along the way, it has been an amazing ride, and it's one that I want for you."
Carlos Salum is a Leadership Performance Strategist who understands Transformation and has consulted international peak performers in professional sports and business for over 30 years. His corporate clients are based in 4 continents. Carlos guides senior leaders in the design of a Breakthrough Blueprint that leads to greatness and extraordinary results.
"Working with peak performers has taught me that true achievement means discovering our identity, expressing our uniqueness, creating value and leaving a path for others to follow. My clients constantly seek challenges that enhance their lives. They don't just want to excel in business: they want fulfillment, a profound sense of meaning and to leave a legacy."
Together, Mac Lackey and Carlos Salum have designed a powerful Workshop based on a proven-effective approach for you to attain extraordinary Entrepreneurial Success and Life Wealth.
How Do You Define Life Wealth?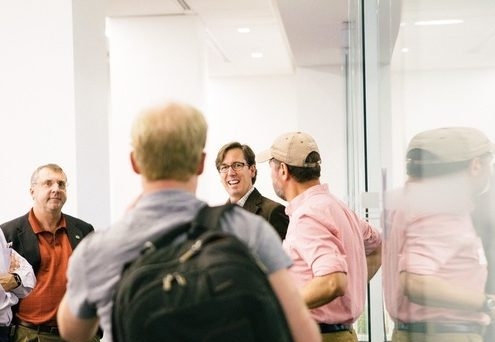 "More importantly than some of my work experiences, I am a devoted husband and proud father of two amazing girls. The biggest thing that being an entrepreneur has done for me is give me true life. I have traveled the world (15+ countries over the past few years), lived abroad, met my idols, had 50 yard line season tickets to my favorite team (FC Barcelona), and never missed a Donuts with Dad or a chance to carve a pumpkin with my kids. I hope you choose the entrepreneurial path, and if you do, I'll do all I can to help, support, encourage, and arm you with advice and tools that made the path a great one for my family." - Mac Lackey
"The best way to become a successful Entrepreneur is to design your future before someone or something else does it for you. You must analyze "what is" and generate a compelling Vision for yourself that pulls you forward. You must find out "what matters most" to you (your Values and True Purpose). By investing time in this special Workshop to explore new ideas, directions, options and alternatives, you can configure a portfolio of opportunities that can lead to Achievement, Fulfillment, deep Meaning and the crafting a powerful Legacy. In essence, as you create financial wealth, you enjoy Life Wealth" - Carlos Salum
What's the impact of your achievements?
Workshop Information
The Life Wealth Workshop is offered to Sponsoring Partners and their VIP Clients.

Please Contact Carlos Salum for full information on Sponsoring Opportunities
The Workshop is usually is Limited to a select number of participants. Once registered, no cancellations or date substitutions are possible.
The Life Wealth Workshop is offered in the United States and internationally as well.
Who Should Attend:
Entrepreneurs seeking to design their path to Enduring Success and Life Wealth.
Your Key Reasons to Attend:
You will understand the fundamental factors of Entrepreneurial Success
You will design a Blueprint to act on your Vision and Unique Abilities
You will align the essential secrets of Life Wealth, beyond 8 figures
You will explore insights on how to be a Visionary Leader
You will discover what generates Breakthrough and replicates it
You will access knowledge and support to Execute with confidence
"Beyond Financial Wealth, there is Life Wealth"
The LifeWealth Value framework: Vision. Alignment. Leverage. Unique Abilities. Execution
About the LifeWealth Value Framework: Life Wealth is the result of understanding the connection between 5 essential factors that lead to extraordinary financial results and enduring success. Mac Lackey (as a serial entrepreneur) and Carlos Salum (as a strategist for international business leaders) will assist you to configure these five V.A.L.U.E. factors as a Blueprint for you to realize your vision.
Using a systematic approach that includes Models, Questions, Thinking Tools, Case Studies, Peer Coaching and The LIfeWealth Value Blueprint, Mac and Carlos will facilitate your path to confident Action.
Key Takeaways
An effective process that supports Entrepreneurial Success
A 5-Step, systematic approach that promotes decisive Action
A Blueprint to execute your Vision through Leverage
Lead teams better by inspiring Meaningful Achievements
About the Workshop Directors
Mac Lackey
Mac Lackey is an entrepreneur who has built and sold five companies. Serving most recently as Founder/CEO of KYCK (acquired by NBC Sports), Mountain Khakis (acquired by Remington), InternetSoccer Network (acquired by News Corp SKY), and various other ventures. Currently Lackey is a co-founder and serves as Chairman of ISL Futbol and a Venture Partner of VentureSouth.vc, In addition to his role as an executive at SportsEngine (a division of NBC Sports). [Website]
Carlos Salum
Carlos Salum is the founder of Salum International Resources, Inc., a leadership performance strategy consultancy based in Charlotte, NC. He advises leaders from multinational corporations on Peak Performance strategies to obtain breakthrough results. As a sports mental training expert, he's coached Grand Slam tennis champions Grabiela Sabatini and Sergi Bruguera, as well as World Champion race car driver Pietro Fittipaldi. Salum is the founder of TheSircle Executive Club and is an executive at the SportsCouncil Silicon Valley. [More]